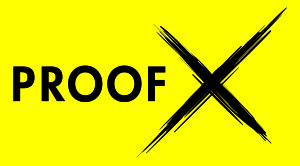 ProofX 3D Bio FabLabs March 2014 Availability
ProofX, LLC Announces NorthShore University HealthSystem 
3D Bio FabLab Partnership
3D Printing & Prototyping FabLab to Improve Surgical Outcomes, Patient Care
For Immediate Release: CHICAGO, IL— ProofX 3D FabLabs — Today ProofX, LLC announced its newest ProoFX Biotech FabLab opening in a partnership with the Center for Biomedical Research Informatics (CBRI) at NorthShore University HealthSystem (NorthShore). The ProoFX FabLab will enable physicians and researchers to optimize surgical outcomes and enhance medical care for patients by fabricating precise, customized 3D anatomical models from patients' CT and/or MRI images.
"Our partnership with NorthShore affirms a revolution in the advancement of biomedical research and biocompatible materials.  We subscribe to the notion that 'If a picture is worth 1,000 words, then a model is worth 1,000 pictures.' We know that medical care needs to be more tailored and personalized. Today, clinicians at NorthShore can take advantage of 3D printing to bring a more affordable approach for individualized medical treatment planning aimed to achieve precision, accuracy in surgical patient care and advanced experimental research," said Dima Elissa, CEO, Co-founder at ProoFX, LLC.
Positive Patient Impact
Top medical research facilities like NorthShore are employing these technologies to improve the quality of patient care by enhancing the accuracy of surgical procedures using simulation of 3D specimens.
"This partnership brings us on-site access to this emerging technology," said Jonathan Silverstein, MD, Vice President, Clinical Research Informatics at NorthShore. "It allows our researchers to extend their 3D visualization models into a tangible physical form, providing physicians' precise models ideal for surgical planning and other medical applications."
ProoFX, LLC underscores the pledge made by the State of Illinois to support re-shoring of manufacturing locally with an emphasis on establishing a leadership position in additive manufacturing.  By partnering with academic, vocational, research and industrial communities across the country, ProoFX is promoting job creation and leading the adoption of digital manufacturing solutions.  As this initial partnership with NorthShore demonstrates, ProofX's immediate focus is to ally with biomedical research institutions with a focus on using 3D printing technology to reduce the challenging cost of bringing innovative solutions and products to market.
About NorthShore University HealthSystem
NorthShore University HealthSystem (NorthShore) is a comprehensive, fully integrated healthcare delivery system that serves the Chicago region. The system includes four hospitals and 100 office locations supported by 10,000 employees including 2,400 affiliated physicians. Further, NorthShore supports teaching and research as the principal teaching affiliate for the University of Chicago Pritzker School of Medicine.
 
The mission of NorthShore's Center for Biomedical Research Informatics (CBRI) is to preserve and improve human life through innovative collection and use of biomedical data. Since opening in January 2011, CBRI's 30 scientists and staff collaborate across topics in basic bioscience, medicine, health systems and public health, using methods from computational biology and imaging, biostatistics, personalized genomics, medical informatics and health services research. During that time, CBRI scientists have published 100+ peer reviewed publications.
About ProofX, LLC
Founded in 2013, ProoFX, LLC is a woman-owned leader in 3D Fab Lab and Rapid Prototyping services to the medical and industrial communities.  Our immediate goal is to help medical care providers achieve affordable, customized, precise and accurate treatment for individualized health care needs. The company offers a wide range of products and services designed to expand the accessibility of 3D technology worldwide. For more information on ProofX, LLC, please visit http://proofx.co. ProoFX, LLC are registered trademarks or trademarks of ProoFX, LLC in the United States and/or other countries. The names of actual companies and products mentioned herein may be the trademarks of their respective owners.
For more information, press only:
Denise Dorman, Publicist, WriteBrain Media
P: 630-215-5623 | E: denise@writebrainmedia.com
For more information on ProoFX 3D FabLabs:
For more information on NorthShore University HealthSystem:
###